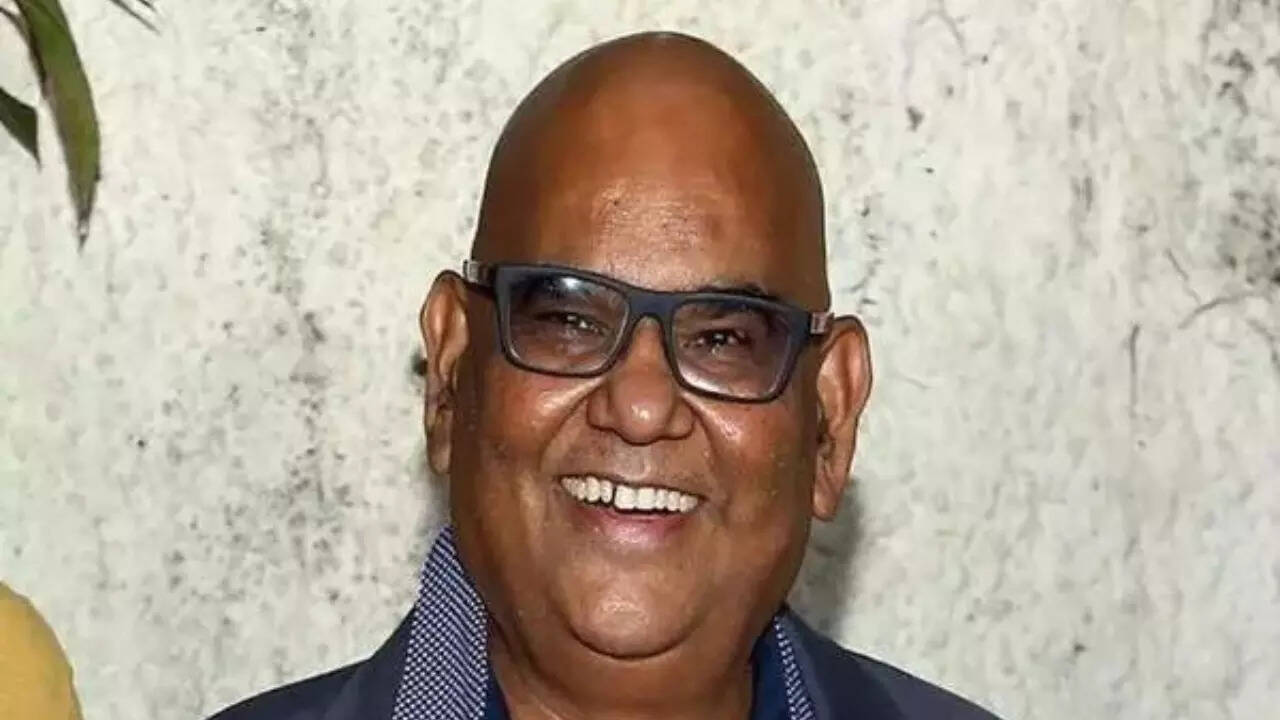 NEW DELHI: Actor-director Satish Kaushik, whose impeccable comic timing created the endearing onscreen character, Calendar in 'Mr India' (1987), and who earned accolades for his powerhouse performance of 'Salesman Ramlal', a Hindi adaptation of Arthur Miller's play, Death of a Salesman, passed away on Thursday. He was 66.
The actor complained of breathlessness late Thursday night and was taken to Fortis Hospital in Gurugram, his manager Santosh Rai told ANI. Sources speaking to TOI said he was brought to the hospital around 12.30 am and declared dead on arrival. Post-mortem reports said that "cardiac arrest" was the cause of death, ANI said.
Just two days ago, on Tuesday, the actor had posted smiling photographs of himself celebrating Holi with writer Javed Akhtar and newly wed actor-couple Richa Chadha and Ali Fazal.
In his social media post, director Sudhir Mishra described Kaushik as a "Brilliant actor. Brilliant mind. A sense of humour like very few others. A life well lived but there was still a lot ahead." Watching the actor in the desert thriller 'Thar' (2022), where he played a weary but wise cop with aplomb, few would disagree.
Kaushik's most remembered comic roles came in David Dhawan films where his uproarious exchanges with Govinda brought the house down. The contract killer Pappu Pager in 'Deewana Mastana'; the garrulous Bhopali who sells stolen goods, and says "Kasam udaan jhalle ki" at the drop of a hat in 'Bade Miya Chhote Miyan'; and the tabla player in 'Saajan Chale Sasural' — were all boisterously funny. Saajan…fetched him his first full-fledged Filmfare Award for best actor in a comic role; he had shared the earlier one with Anupam Kher for Ram Lakhan.
But it was Calendar, the genial cook who sang the parody 'Mera naam hai Calendar, main chala kitchen ke andar' in the blockbuster 'Mr India' that prompts the fastest recall. Even today kids shouting "Calendar, khana lao" are uploaded on YouTube.
Kaushik also acted in the delightfully dark comedy, 'Jaane Bhi Do Yaaro', co-writing the dialogues with Ranjit Kapoor. In a 2018 interview to TOI, Kaushik recalled how the writers were stuck for a suitable climax when he saw dozens of second-hand Amar Chitra Kathas based on characters from 'Mahabharat', 'Ramayan', the Mughal Empire, even English classics, in a pavement stall. "An idea instantly clicked in my mind – why not make a potpourri of all these tales?", he recalled. Calls and sessions followed. The scene was written. A classic was born.
He wasn't shy of playing negative characters. Most notably, the actor played an obnoxious husband in 'Bricklane' (2007), a film based on Monica Ali's award-winning novel about a young Bangladeshi woman in 1980s' London.
But such roles were rare in films. Theatre gave him more cerebral parts. Kaushik played Ramlal, a local version of Willy Loman, the unsteady protagonist who vacillates between memories and imagination in Miller's unforgettable play. "I have seen many versions of the play. But whenever I think of Death of a Salesman, Satish Kaushik's performance is the first thing that comes to mind. He lived the character and made it his own," said well-known theatre director Arvind Gaur. The play was directed by noted theatre director Feroz Abbas Khan.
Kaushik was born in Mahendragarh (then in East Punjab, now in Haryana) and grew up in New Delhi's bustling Karol Bagh. The actor later named his film production company after the locality. His father, according to film critic Mayank Shekhar, sold Harrison locks, a well-known brand in 1970s' north India. Kaushik went to Delhi's Kirorimal College, where he took early steps in acting. Later he joined NSD. Kaushik retained his ties with his alma mater, and reports say he was keen to restore the college's auditorium.
In Mumbai, Kaushik initially struggled to make an impact in commercial films. 'Mr India' changed that. Kaushik was also the associate director of the film, which was produced by Surinder and Boney Kapoor. As a director, he was to forge a long collaborative relationship with Boney, directing big-budget crime caper 'Roop Ki Rani Choron ka Raja', and the young-love story 'Prem', where a very young Tabu and Sanjay Kapoor were lead actors. Both films flopped. But Kaushik, the director, wasn't to be denied heady box-office success, courtesy Salman Khan's 'Tere Naam' (2003), the remake of a Tamil film.
The actor's death was widely mourned. Prime Minister Narendra Modi, Haryana CM Manohar Lal Khattar, UP CM Yogi Aditya Nath and Rajasthan CM Ashok Gehlot condoled his death. Those who worked with him in the film industry spoke of his humility, warmth and generosity of spirit. Among others, Nawazuddin Siddiqui, Salman Khan, Manoj Bajpayee, Raj Babbar, Anupam Kher and Kangana Ranaut (who directed him in the forthcoming, 'Emergency') offered their condolences. Actor Yashpal Sharma wrote how Kaushik wanted to promote Haryanvi cinema throughout the state.
'Mr India's' director, Shekhar Kapur, said on Twitter, "Like a part of my life story is gone. A bit of me wrenched away. Leaving a huge gap. Thank God for your stories, our stories together Satish. They will keep you alive in my heart forever." His fans would hold a similar view.
(With inputs from Ipsita Pati, Gurugram)