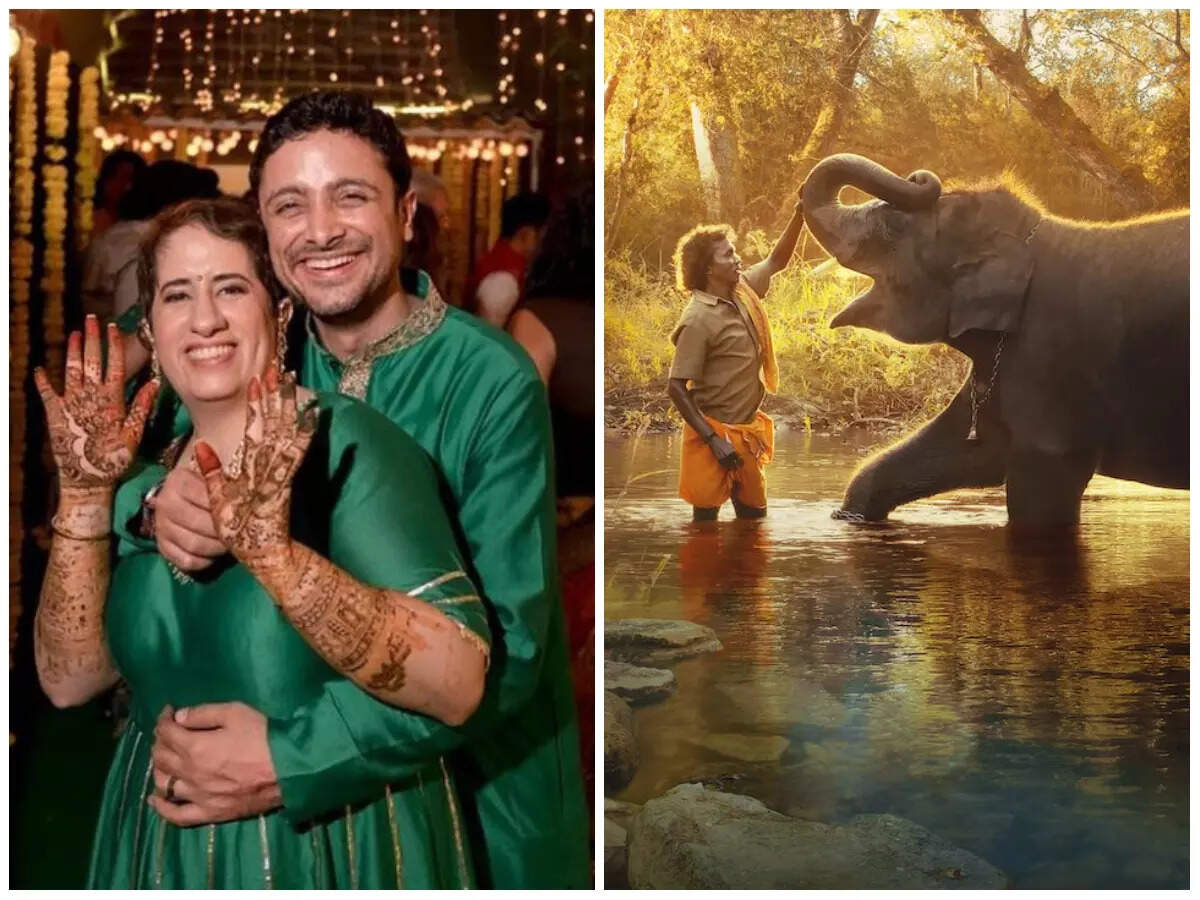 Producer Guneet Monga, known for backing critically-acclaimed films like 'The Lunchbox' and 'Gangs of Wasseypur' and the Oscar-winning documentary 'Period. End of Sentence', will fly out to Los Angeles this week with the hopes of bringing home another Oscar.
Before flying out of the country to kick off the final leg of campaigning before the big Oscar night, Guneet sat down for a telephonic chat with ETimes, where she opened up about her Oscar nomination. "I remember landing for my honeymoon on the 21st of December and that's when the shortlist came. I wanted to abandon the honeymoon and run to LA to do the campaign," said Monga and laughed, reminiscing the shock and surprise on hearing about the Oscar Shortlist.
Beginning her Oscar run and married life with husband Sunny Kapoor has "been quite epic," said Guneet as she gushed about her "supportive" partner. She revealed, "I had been working all nights, even through the honeymoon, trying to do a campaign, so he has been very supportive. We cancelled some of those guided tours. We were just like, 'we're not going to go on any of them, there's so much work to do.'"
She added, "Running a campaign is a lot of work and I'm so humbled and grateful about everything and grateful to have such a lovely supportive partner. It means a lot and I think I've prayed for this all my life. It's still all sinking in. The universe has been kind."
Guneet married Sunny in an intimate ceremony on December 12. She announced the happy news in a post that read, "With the unconditional love and blessings of our Guruji, elders, friends and family we took our vows to start our forever, today."
At a time when all bets were on SS Rajamouli's 'RRR' and Pan Nalin's 'Last Film Show' to score big at the Academy Awards, the Guneet-backed documentary emerged as a dark horse in the race along with Shaunak Sen's 'All That Breathes'. When asked about the support she received from film industry folk, Guneet said, "A lot of people called. From Mr Rahman to Karan Johar, everyone texted, called and reached out. It's amazing to have that love and support from the industry."
While this is Guneet's first nomination, it is not her debut run at the Oscars. "My film – Period. End of Sentence – has won an Oscar before, but this is the first time I am nominated for it. So, if we win this time, I will have my own trophy," she explains and admits, "I am very nervous."
When asked if we should keep our eyes open to spot her on the 95th Academy Awards red carpet, she said, "Absolutely! I will be leaving next week and will be there the whole month for the campaign. I will be pretty much stationed there."
With one Oscar to her name and another in arm's reach, we asked Monga what she looks for in a film and if there is a winning formula to score at the Academy Awards. "There's no winning formula. I pretty much go by instinct," she said and explained, "This is such an incredible story that Kartiki Gonsalves, who is my director, has discovered. She then shot with the elephants, Bomman and Bellie, reached out to them, worked with them, and made friends with Raghu. She then made a pitch trailer and reached out to Netflix with it. Then Netflix reached out to me."
"Firstly, who can say no to baby elephants? It's such a secret, spiritual story. I honestly feel that Raghu and Ammu chose us to tell their story which I am so happy to be a part of," she said.
Talking about Kartiki, who is making her directorial debut with this documentary, she says, "When I met Kartiki, it was this amazing, purest vision of a storyteller because this is her debut project. I just wanted to be on this journey with her and make sure that she has the best experience. We both had the best time working together."
"It has been amazing to collaborate with Netflix. Working with them feels like putting a hoarding on the moon, because we're in 190 countries, with the Oscar nomination, there are 223 million viewers who can experience the film and we're getting fanart from around the world, so it's just about deep intuition and harnessing that intuition every time you enter a project over the years," Guneet explained concluded, "So, that's been my journey."
The 41-minute documentary that chronicles the bond that Bomman and Bellie, a South Indian couple, share with Raghu, an orphaned elephant will be up against 'Haulout', 'How Do You Measure a Year?', 'The Martha Mitchell Effect' and 'Stranger at the Gate'. With all the buzz around the movie, and many predicting its win, we asked Guneet if she has already started penning down her winning speech. She tells us, "No, not really, but I will get to it once I get to LA. There's too much to do in India right now."
The Academy Awards will be held on March 13 at the Dolby Theatre in Los Angeles.