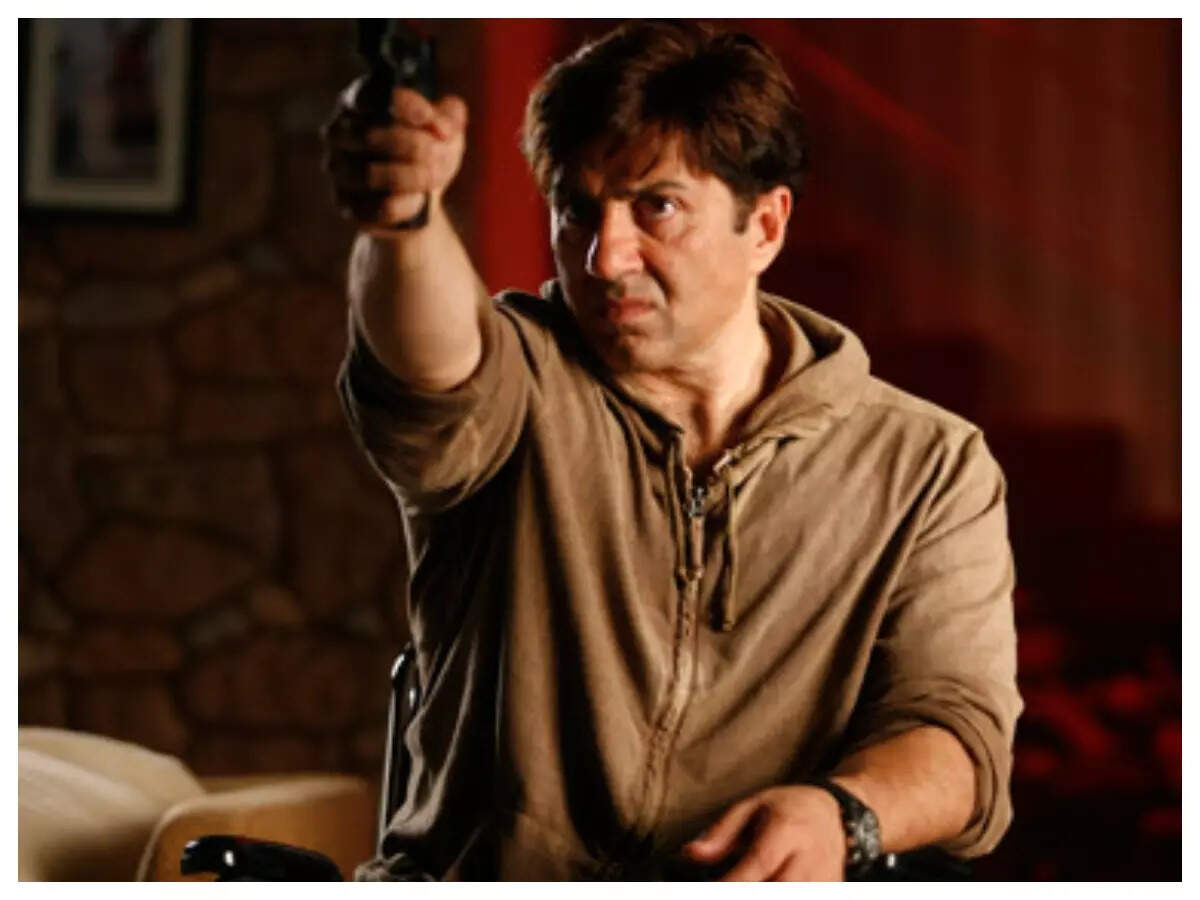 Neerraj Pathak's Right Yaaa Wrong was important to Irrfan Khan as this was his first full-fledged commercial film. Irrfan was worried how audiences would perceive him next to a complete mass entertainer
Sunny Deol
.
Sunny had his own battles to fight with producer Subhash Ghai. Sunny Deol, back in shape in every which way, played a cop who in the first two reels loses the power to walk. But the narration simply sprints along through a series of unpredictable twists and turns that take the striking characters across a maze of intrigue and conspiracy.Truly, the screenplay is far superior to its execution. And that's entirely a comment on the above-average caliber of the writing. The characters and their motivations address themselves to adventure-thriller-suspense would of James Hadley Chase and Sidney Sheldon. The men are brave and heroic, clever and fearless. Even when cuckolded Deol is dignified in the embrace of betrayal.
Here was a film that extended the borders of morality. It did so in the commercial language without resorting to crass situations and dialogues. For fans of Sunny Deol's fist-friendly image here was the actor telling us that strength is sometimes a matter of holding back rather than letting it all hang out.
Behind the scenes, Sunny Deol was very upset with the way Subhash Ghai and his production house Mukta Arts marketed Right Yaaa Wrong.
In an interview after the release of the film Sunny had said, "It was always a good film. Mukta Arts has not been fair to it. They've publicized it like a small producer would have. For a large production house they really didn't seem to know what to do with the film. It was all talk talk talk… There were so many meetings and so many plans. But nothing happened. I'm fed up of all this empty talk. Now I only want to work on projects with a clear plan of action."
Sunny felt Ghai was not interested in the film. "He didn't believe in Right Yaaa Wrong. And he was surrounded by advisers who were constantly trying to bisect and dissect the film. Filmmaking may be a team effort. But you can't have a team of people always providing inputs and advice. That only causes chaos and confusion. The film has to finally go by one man's vision. And that man is the director."
Apparently, Ghai didn't allow the director Neerraj Pathak to do his work. Sunny had said, "At the end of the day it's his vision that determines the end-product. You've to let the director do his job. Fortunately or unfortunately, I'm not the kind of person who interferes beyond a point. I can't sit and talk talk talk. I'm a man of action."
Sunny accused that the film was released at the wrong time. "They kept saying they'd release the film at the right time. Finally they released it on the day the IPL matches started. How is that the right date? The truth is, they had lost interest in the film. But when they held trials people liked the film. Suddenly they decided to release it with haphazard publicity at a time when I was shooting in Punjab. They were earlier supposed to release in December, then January… what was I supposed to do? Give up shooting and run around doing the publicity (for Right Yaaa Wrong) when they wanted me to? All big talk. The world is filled with big talkers."
Sighed Sunny, "It's a changed industry. Nothing works the way it used to. A few films click, and that's it. I'm not interested in any kind of politics. And the directors… we need good directors. The directors we (the Deols) have given a break to have run away after working with us. Everyone is into their own kind of cinema, not necessarily sensible cinema."
On the other hand, Subhash Ghai reacted to Sunny's accusations with restrain and logic. "Mukta Arts is the worldright controllers and distributors of Right Yaaa Wrong. We weren't able to sell the film anywhere. There were no buyers. The set-up was not saleable. Our job was to give money for the film's making and therefore we were the most insecure people in the project. Sunny saab's reactions have to do with the way the film has been received. Why didn't he say all these things before release? I had gone to Sunny's home at least six times. We wanted to release it initially on November 30. But the stars, and I'm talking not just about Sunny but Irrfan, Konkona and Esha Koppikhar, had no time to promote the film. As far as my intervention in concerned, the director Neerraj Pathak himself came to me to ask for advice. I only advised him to increase the film's tempo. Is it a crime to give suggestions for a film where there're so many financial stakes? The film was started when there was a boom… big fruits were laden on the tree. When it was released the tree had dried up. All the cast and crew reaped the fruits. We the film's world financiers were left with no money. We sold the entire overseas territory for Rs 20 lakh. We spent Rs 1.5 crore on the publicity. But the actors were not available for the publicity. Sunny said he's too shy to do publicity. Look at Shah Rukh and Aamir how they promote their films. They hold their producers' hands and take them everywhere for a film's publicity. Instead of publicity for Right Yaaa Wrong, Sunny left for Punjab to shoot his film. Please don't blame Mukta Arts. Now why is Sunny getting agitated? He's a good boy. But he's innocent about the changing marketing strategy of cinema. Sunny needs to get real."