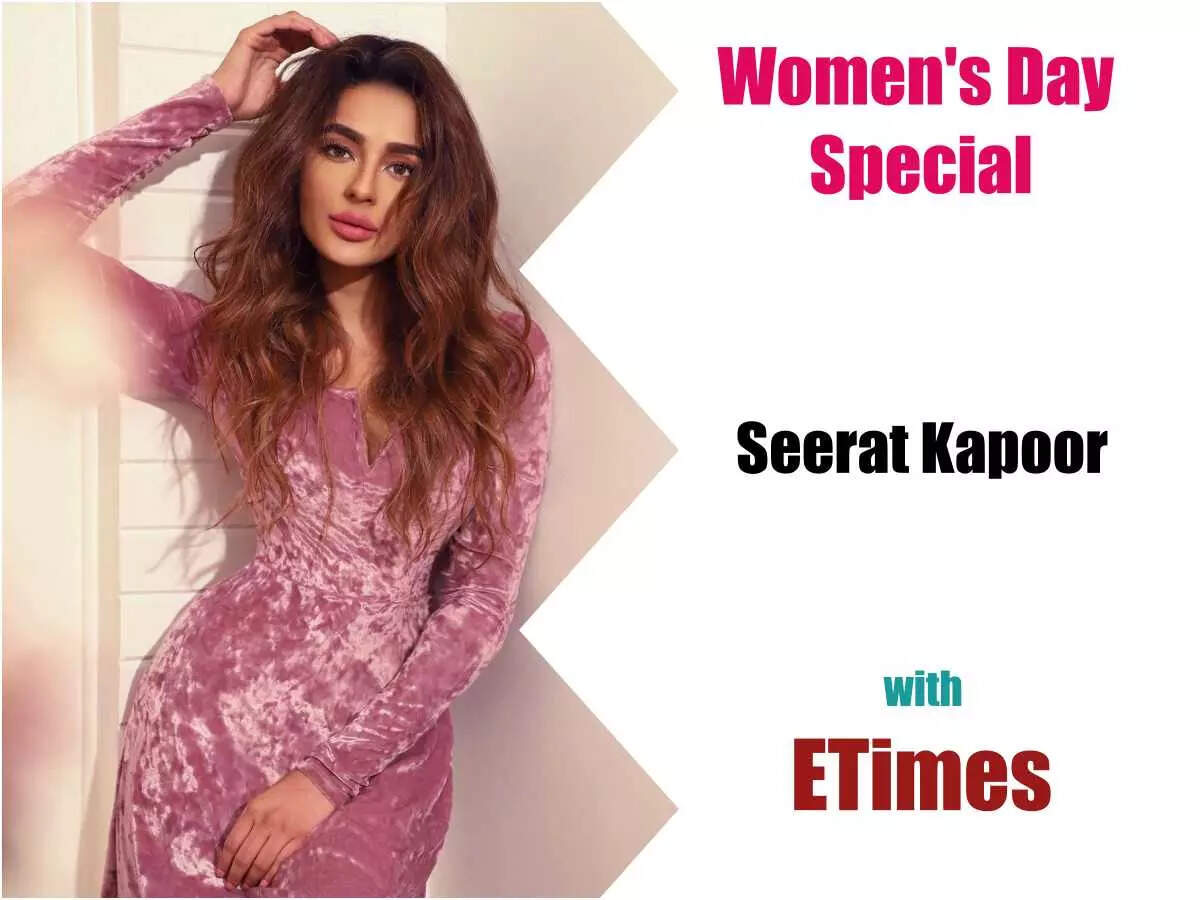 Choreographer turned actress Seerat Kapoor is a popular name in Telugu cinema. She's carved a niche as a dancer who could do so much more. As we celebrate the glory of women in our lives on the occasion of International Women's Day in our special series, Seerat Kapoor speaks to ETimes about how we, together as a society, can make a better place for women. She shares her personal experiences and more.
What is that one thing you've done as a woman that makes you proud?
I feel I am very close to my family. I'm constantly traveling and meeting new and different kinds of people. At the end of the day, when I go back home to my family, they recognize me as the same girl from the time I was born. I find my gratitude there. For me, validation from my closest people is very important. I don't question their criticism either. I understand where they're coming from, I understand the intent, since they've known me so deeply over these years. They know my strengths, my weaknesses, they know everything. I just absorb and try to use that information as advice and guidance. And it has always helped me.
What are the important things needed in a place to create a supportive and safe environment for women both at home and in the workplace?
At home, definitely belief comes first. Because don't always have the clarity of where life turns and when it will translate into our aspirations our dreams. So if you have a family that supports you in terms of belief and trusts your potential it makes a difference. My entire journey is inspired from this note. It is also important for you to be able to deal with situations, regardless of someone's opinion about you. You should know what your potential is and what you can make of it in the coming years. Self belief comes first, both at home and workplace.
What does freedom of expression mean to you?

For me, freedom of expression is to be able to share everything that I want to do with absolute honesty. And that may not always necessarily be the perfect picture. When we talk about vulnerabilities, women are sometimes a little fearful of being completely naked in terms of their emotions, sometimes in front of their family and friends as well. They're afraid of judgment. We don't want to question that because we've all gone through these pressures over the years. It is essential to find out what you want to do with yourself and actually make it happen, which requires mental stamina besides physical work. One should be optimistic at the end of the day and not take failures in a negative way.
What will it take to eradicate the negative perception associated with feminism?
In my point of view, feminism was never meant to be looked at in a negative way. Both men and women have always meant to complement each other. But of course, we all go through our bittersweet experiences, whether it's friendships or even with the family. Whether you are a feminist or not, what matters that you're honest and you put across your thoughts in a dignified way.
Who has been your biggest support in life and why?
My parents. I have grown up in an environment where I've seen my parents support each other, whether it's a partnership or friendship. Both my father and my mother are close to their siblings and hold their family together. My biggest fear is, I'd never want to lose my family, they are no less than God to me. They can see through my emotions and tell me I'm feeling sad even when I pretend to be happy.
How can men contribute to achieving equality and mutual respect?
I think both men and women should understand and support each other regardless of the situation. If there are issues, we should always remember that we are fighting against the problem and not against each other. Unfortunately, or fortunately, sometimes things don't work. Sometimes, assumptions take the lead but it's probably something that you need to change within yourself.
Have you faced any kind of discrimination as a woman compared to your male counterparts, be it at home or the workplace?
Not at all. I have grown up in a family where both me and my brother have been brought up equally. One needs to figure out a way to accept themselves first and move forward. I've seen a lot of people in the industry who have followed this approach. Even the most successful people have not been appreciated or being written off at some point. They all have gone through their own struggles. Regardless of the gender one needs to keep oneself motivated and keep creating opportunities.
What are your expectations from men for creating a healthy, long-lasting relationship and keeping the spark alive?
The first expectation is, I should also see him as an equal. There's this myth that a man needs to be the provider, be it emotionally or financially. If we're talking about equality, then we, as women, should also put efforts to understand them. I don't think men are hot-headed. There is a vulnerable side to them as well. They also need to be understood. I would want my man to be free, I would want him to explore his life, do whatever he wants to, as long as we have honesty and communication between us. If I can do that with the right person, I'm sure that person would also treat me in the same way.
Did you ever have body image issues? How did you overcome them?
I'm not sure if I ever had body image issues but, of course, everyone judges you with a different lens. Being a dancer, I've had a different body type, I've been more athletic. I was very lean. I had to gain weight to play a certain character where looking beautiful wasn't the first criteria. But I was okay with it. I understand that beyond the face, there's so much more to a human being and it's their nature. The definition of beauty is changing in cinemas today. Actresses are choosing to play plus size roles, breaking stereotypes and letting people know we're not just there to look pretty.
How would you address the issue of pay disparity when it comes to gender comparisons?

I would say that the demand for work should be equal for both men and women. Having said that, it depends on one's journey. Actors who have been around for a while, demand for more pay. But you should also know your worth and quote the price accordingly. It's a creative field and there will be a little bit of up and down. Just be consistent in your craft, stay humble and grounded and you will be in a position to ask what you want.
What advice would you like to give to your younger self?
To my younger self, I would like to say, 'Kudos, for not knowing anything, being innocent and yet figuring it all out.' It takes a lot of courage and I never want to lose my younger self. I still have her in me. I still go back to her. And she's going to be there all through.